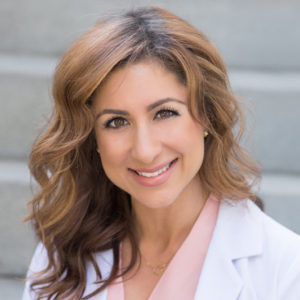 Sanaz Mansourian, MSN, FNP-C
Sanaz Mansourian has dedicated her professional life to health and healing. Her background incorporates a solid foundation in the sciences and a holistic approach to medicine. Her path to becoming a Nurse Practitioner started at California Polytechnic University Pomona, where she obtained a Bachelor of Science in Biotechnology. After completing her undergraduate degree, Sanaz earned a multiple and single subject teaching credential at California State University East Bay. While teaching science, she became a health educator for the Mount Diablo Unified School District teaching health education to middle school students.
In her free time, Sanaz taught yoga and healthy cooking classes. She began helping others along their path to health, and witnessed the physical body's profound ability to heal in the proper conditions. This ignited a deep appreciation for the body's innate capability to restore balance and inspired her to obtain a Master of Science in Nursing and Nurse Practitioner Certificate from Samuel Merritt University.  She practiced General and Cosmetic Dermatology for 5 years and has over 7 years of experience in aesthetic medicine. Sanaz is currently a member of the American Academy of Anti Aging Medicine (A4M) and is completing the fellowship in Anti Aging and Metabolic Medicine. Her desire to look beyond the scope of conventional medicine to find the root cause of dis-ease brought her to practice functional and anti-aging medicine with Dr. Campbell. Her personalized approach to health and wellness includes a combination of aesthetics and anti-aging practices to offer a comprehensive approach to aging well with confidence.
In addition to her medical training, Sanaz has studied the human energy field for over 20 years. She is a certified Reiki master in the Usui Shiki Ryoho system of natural healing, and a level five Healing Touch Practitioner. She is also certified in the "I AM" method of yoga nidra, a guided meditation practice that takes clients into a deep state of relaxation and profound stillness where they create a new relationship with stress producing thoughts and emotions, improving vagal tone, and coherence in mind, body, and spirit. Outside of work, Sanaz enjoys spending time with her husband, two children, and MiniSchnauzer. She enjoys hiking and exploring the local area on her vespa. She began studying the pedal harp 5 years ago and enjoys a variety of music, karaoke and intuitive movement.